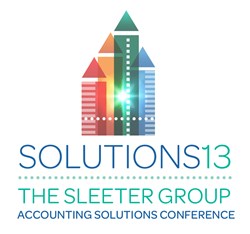 Pleasanton, CA (PRWEB) August 30, 2013
The Sleeter Group, a company dedicated to studying the market to find the best solutions that help small businesses work smarter, faster and more profitably, is pleased to announce they will host CPA Practice Advisors Most Powerful Women in Accounting Awards at their 10th Annual Accounting Solutions Conference.
Were thrilled to be selected as the venue, said Sherrill Sleeter, The Sleeter Groups COO. Women are having a tremendous impact in the tax and accounting field. We see this within our own Sleeter Group Consultants Network membership. The CPA Practice Advisor recognition is a powerful way to encourage the emerging leaders in the field and recognize their hard work. We feel its a perfect fit for our conference, which promotes forward thinking and thought leadership in the accounting profession.
Winners of CPA Practice Advisor's annual "Most Powerful Women in Accounting" awards will be selected by an independent judge panel of accounting professionals, based on their contributions to the accounting profession, initiatives or actions they have undertaken that have influenced their organizations, personal leadership, community involvement and mentoring of future women leaders.
The Accounting Solutions Conference will be held at Caesars Palace Las Vegas, from November 3-6, 2013. The conference is attended by hundreds of accountants, bookkeepers, consultants and IT professionals who, in turn, advise their small business clients on financial, workflow and productivity issues. Content includes over 70 educational opportunities presented by industry experts, thought leaders and technology developers. The awards ceremony will be held on Tuesday, November 5.
Nominees for the Most Powerful Women in Accounting awards are being accepted through September 27, 2013 at http://www.cpapracticeadvisor.com/wia. Registration and additional information for The 2013 Accounting Solutions Conference can be found at http://www.sleeterconference.com.